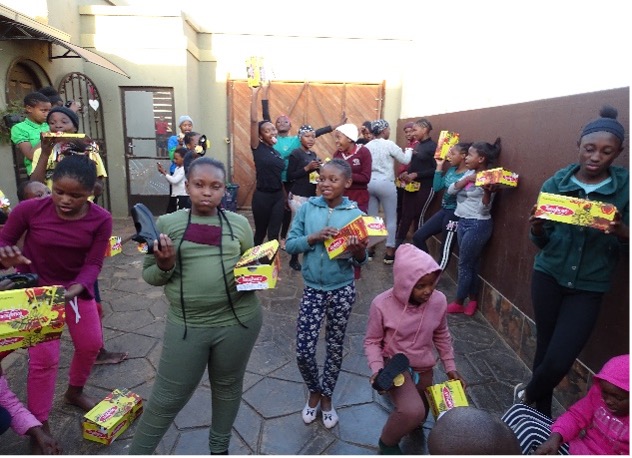 CSI GIVE AWAY: POSITIVE VIBRATIONS

Bata South Africa has embarked on a CSI initiative to give away shoes to 5 organisations. One of the recipients of the CSI shoes was Positive Vibrations (Arts Foundation of Hope for the Girls), a Non-Governmental Organisation that focuses on development and human rights. Positive Vibrations has distributed the shoes and donated them to them to the a Chief Luthuli Primary School in Benoni, Gauteng Province and Positive Vibrations learners.
Positive Vibrations focus on work with LGBT+ communities, sex workers, people living with HIV as well as adolescent girls and young women. This organisation's beliefs are centred around taking charge of your life, strengthening yourself to effectively shape your future, using your voice and actions to contribute towards the larger goals of social inclusion, social justice and equity.
Positive Vibrations distributed the school Shoes to Chief Luthuli Primary School and the Positive Vibrations learners in August 2021. Positive Vibrations in partnership with Bata South Africa have provided support and a positive change in the lives of these young girls, with this donation helping the girls step confidently and boldly into a better tomorrow. This project has been a touching experience for both the Parents and learners, a gesture of kindness that has had an impact on those who need it the most.
"Bata South Africa values the Positive Vibrations commitment to help others, especially in these tough economic times," says Swastika Juggernaut, Bata  South Africa Marketing Manager, this donation has gone a long way towards the worthwhile initiative of educating and changing lives.
A letter of thanks received from Lungile Maboe, the Managing Director of Positive Vibrations stated: "We would like to extend our gratitude and appreciation, thank you for your understanding and your willingness to help those in need. We would like to thank you for sincerity by first contributing hope and willingness to support us. We are thanking you all for your eagerness and your wonderful hearts and for holding our hands in these difficult circumstances."
Look out for more inspiring stories that came from this CSI initiative.