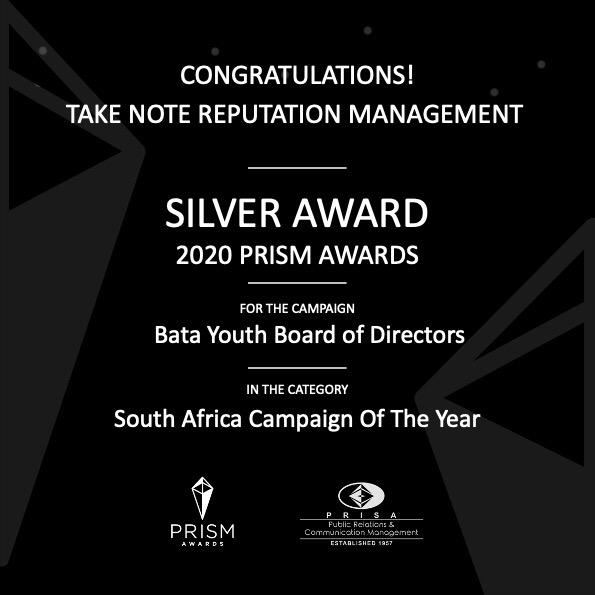 BATA YOUTH BOARD OF DIRECTORS TAKE SILVER!
BATA SOUTH AFRICA WINS SILVER AWARD FOR CAMPAIGN OF THE YEAR CATEGORY AT 2020 PRISM AWARDS FOR BATA YOUTH BOARD OF DIRECTORS
Bata South Africa's reputation management agency, Take Note Reputation Management were recently awarded a SILVER AWARD in the category – National Campaign of the Year at the 2020 edition of the PRISM Awards. The campaign was for the Bata Youth Board of Directors which took place in the latter part of 2019. Out of the 289 entries that were received for this category, Take Note Reputation Management placed in the Top 5.
The PRISM awards is Africa's most sought after public relations and communication awards which is judged by over 67 judges alongside 10 dynamic young judges, as part of the PRISMs Young Voices initiative. The PRISMs are awarded to individuals, students, consultancies, companies, government organisations and NGOs that have successfully fused strategy with creativity and professionalism to achieve the best communications and business objectives in their public relations campaigns. The awards are currently in their 23rd year and for 2020, new categories have been introduced.
For the first time in its 23-year history, Africa's most sought-after awards show in the Public Relations and Communications industry was hosted on Friday, 15th May 2020 via online streaming due to concerns of the spread of COVID-19 in the country.
Bata South Africa and Take Note Reputation Management worked together in selecting their first ever Bata Youth Board of Directors (YBOD). The board of trendsetters, aged between  8-16, gave Bata an inside glimpse of youth insight and market desirability. This board also served as a learning platform as it exposed the youth to real-life business experiences.
Take Note Reputation Management developed an integrated campaign that included coverage via print, digital, broadcast and social media channels. The use of these channels saw the campaign exceed all of its performance deliverables.
"Bata saw Youth Board of Directors as a resource for fresh, new perspectives to delivering a vibrant and creative 'youth-appeal' fashion philosophy, to all young South Africans," says Michael Wyatt Bata South Africa country manager. "We are grateful to the team at Take Note for all their hard work and dedication and for bringing this campaign to life. The achievement of a silver award at this year's PRISM awards further solidifies the success of the campaign," added Juggernath.
Bata South Africa also wishes to thank the members of 13th Floor, Dream Builders and Blossom Insights who formed part of the team for this campaign.