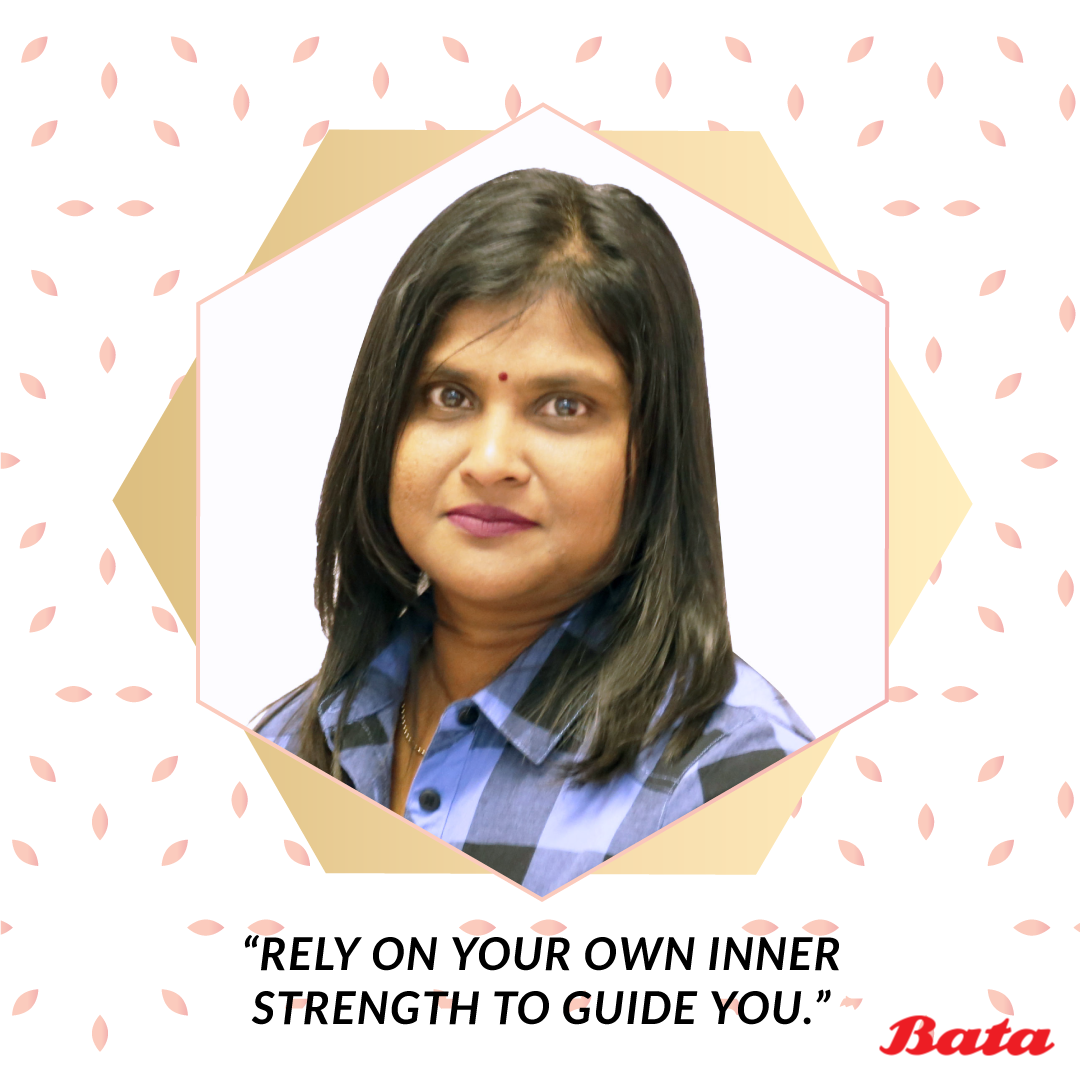 South African women, who have transformed the fashion industry are celebrated every day, here at Bata: behind-the-scenes with Mandy Govender.
Part two of our interview is with one of our dearest team members, Mandy Govender, who is truly such an awe-inspiring woman that has conquered the odds against her and she has become a successful woman in the fashion industry. South African women will truly be inspired by her.
Read the full interview below to find out more about, Mandy Govender: Collections Manager at Bata.
Bata: Hi, Mandy. Thank you for joining us today. What a pleasure it is to sit with such inspiring South African women and discuss what your secret to success is. Tell us a bit about yourself and what you do at Bata?
Mandy: Hi! Thanks so much for having me. I've been at Bata for 28 years now. Well, in August it will be 28 years.
Bata: 28 YEARS! WOW!
Mandy: Yes… *laughs* I've been in different departments though. I've never really stayed in once place too long before branching out within the company, acquiring different job specs over the years, which has been very interesting. You get to know a little bit of all the departments. This exposure expands the mind and gives you an all-encompassing view of the decisions that are made on a daily basis. This has also helped me in my daily life to look at the "bigger picture". Initially, I started at the factory.
I then got into a 3 month contract in the office in more of the product development department. I worked there for at least two or three years and then moved up into the costing department. Thereafter into purchasing – constantly diving fearlessly into the unknown. Thereafter… into imports, sourcing – and then, finally, into development/brand management. Then… I was diagnosed with cancer in 2011, which was quite life changing within a space of one week. I had to adjust very quickly and that is where the work atmosphere came into play. After my recovery – upon returning to work – work kept me busy, which is what I needed. I needed normalcy back in my life.
The inner strength I had to gain from this was my family. It wasn't easy seeing them upset about. So, I just got up one day and decided to fight the fight, which I've been fighting now for almost 8 years.
Bata: Wow…
Mandy: Many people will give you their opinion of what to expect, but I had to see and understand this for myself (much like my approach to my career). Every person's body is different. Everyone's journey is different.
Bata: In your own right…
Mandy: Yes… Being mentally prepared for what I was about to go through really helped me!
Bata: How did you deal with coming to work after going through chemo and losing your hair etc…?
Mandy: I got myself a wig in anticipation of what was going to happen. Being prepared wasn't a question. I got straight to it. No one directly approached me at work, but I could sense they were aware of what was going on. The Bata team were very accommodating – including my medical aid.
I remember the FD's face when I first walked into the office. I held my head up high, and there was no blink of an eye between him and the MD that was here at the time. He just said, "It will be done." And that, I think, was the comforting part of it. No one asked for proof or made excuses. All the medical stuff was taken care of. I had to be so brave during this time and I think that what I had faced in my life leading up to this event helped my approach to dealing with cancer in my home life, and work life.
Bata: That's a relief because it can be very scary, and costly… never mind dealing with the emotional aspect of it…
Mandy: Absolutely! It's very scary and expensive. My opinion is that, everyone is different. You just need to find your own inner strength. It's good to talk. I'm not usually very good at talking about things, but now I don't mind. If someone needs to talk, I'm here for them.
Bata: The support from your family was, and still is, incredible!
Mandy: My family has been such a blessing. My daughter was amazing! The first couple of weeks were difficult. As I said, everyone has the potential to find their inner strength during difficult times. I would like to encourage every woman to be strong and go in with a fight. At least then you know, you fought your battle until the end and you didn't give up at the beginning. Anything is possible these days. With new technology and medicine, where cancer was a death penalty before, coming out of stage 4 cancer today, is quite possible.
Bata: It's incredible!
Mandy: Work, as I said, has been amazing. Work keeps my mind busy and the people that I work with have always been so supportive. I did not take advantage of that – being sick. You do what you have to do. Life isn't happening to me, it's happening for me to shape who I am and who I will inspire down the line. Women are so naturally resilient, brave and strong.
Bata: That's really incredible, Mands and we're so glad to hear that you're almost 8 years in remission now. It's amazing!
Mandy: Yes… 8 years and the doctor is happy, and I'm happy. A friend of mine kept nagging that I must go and have a check-up done. I don't know what it was, but one day I decided to go. And, that's when we discovered that I had cancer. I encourage women to go and have their check-ups done regularly.
"Inner strength counts in the process of recovery of any kind. Emotional or physical." – Mandy Govender
This interview really touched the hearts of each team member at Bata. Those who are around now, and those who worked with Mandy previously. While at work, there is work to be done – but, we can never forget the strength of the ladies who walk through the head office doors each day to do a job that they love, while juggling life outside at the same time. That's commitment!
For more interviews with South African women in the industry at Bata, visit our news page. Stay beautiful, stay strong!
Love, The Bata Team.